bio
2GEN IS THE SUM of two big passions. Two generations of a family which had developed separate careers in electronic music over the years, have gotten together to explore the vibrant chemistry that emerges between them before the turntables. For years they had shared tips and concerns, exchanged tracks, lent equipment to each other… They had it before their eyes, but they didn't see it until, in May 2014, destiny brought them together in the DJ booth of a club in Zaragoza, during a night dedicated to Techno. Sparks emerged! Soon they found out that their connection also worked in their recording studio in Barcelona, where they spend hours producing, testing or just enjoying music.

SINCE THEIR COUPLING, they have turned into one of the most respected and promising duos in the Spanish underground scene. Boosted by a unique connection with the crowd and a elegant sound identity, they have obtained a remarkable support from other fellow artists with elegant tracks such as Underground Generation (Funky Music), Make it happen (Balian Records) and 220V (HUO), all of them stuffed with an optimistic sound and laid in a frontier area between Techno and Tech House. Over the last two years, they have completed their major breakthrough as a duo, with stellar appearances in top festivals and events such as Medusa Sunbeach (Spain and Mexico), Animal Sound, Falkata (Spain) Bora Bora Beach Club, Lovin' Ibiza Festival, Pacha El Hotel (Ibiza), and important gigs in their hometown Barcelona (Off Week, City Hall, Hola Club Sitges…). Their story continues… Follow them up!

​
Con tecnología de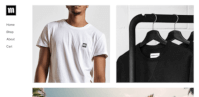 Crea tu propio sitio web único con plantillas personalizables.